Description
Wordspionage is a multiplayer, turn-based word game with exciting spy moves that let you gain advantages over your opponents. Its innovative features push the boundaries of traditional board games and bring elements of cool and danger to the word game genre. Use
Special Operations
to elevate your word game strategy:
Cover ID: Add a blank tile to your hand to make stronger words.
Surveillance: Spy on your opponent's letters to anticipate their next move.
Misdirection: Shuffle the multipliers to confuse your opponents.
Switch: Give one of your letters to an opponent and get their best letter in return.
Flash Bomb: Destroy the multipliers for one turn to stop opponents from using them.
Sabotage: Throw a wrench in your opponent's gears and make them lose half of their last turn score.
Double Agent: Activate a sleeper agent who will steal half of your opponent's last turn score and give it to you.
Play against up to three opponents in one game. Pick standard placement of multipliers or random placement of multipliers. Choose the time limit and word guess limit per turn. Play up to 30 games simultaneously.
In order to initiate most Special Operations, you need Wordspionage Dollars (WS$). Each new player is given WS$1,000 to start, and there are ways to earn WS$. Although
initiating Special Operations and using WS$ is not required to play Wordspionage,
it makes Wordspionage more fun and unique than other word games, and it may help you win.
Play Mission Words to spin the Bonus Wheel and earn WS$ or extra game points. Mission Words are 4-letter, 5-letter, and 6-letter words that are randomly chosen for each game.
Use all seven tiles in your Tile Tray in one turn to spin the Bonus Wheel and earn WS$ or extra game points.
Win games to spin the Bonus Wheel and earn WS$.
You can purchase WS$ within the game in the Wordspionage Store.
Play Wordspionage for free with ads, or purchase the ad-free version for US$1.99.
Complete Game Rules
History
What If...
Sean Mann and Shannon Ahn, creators of Wordspionage, are a married couple who regularly play word games together. One day Sean asked out loud, "what if you could peek at your opponent's tiles without cheating?" Shannon, a lover of all things spy, especially TV shows about female spies, said "that would be cool, and that would be like surveillance in a spy show."

And that's how the idea for Wordspionage was born. Sean and Shannon came up with unique spy-themed moves and features that add new layers of strategy and excitement to the traditional crossword-style word game. But they would have to wait 3 years to see their vision come to life.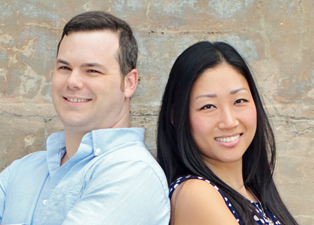 Following Their Dream
In late 2012, Sean and Shannon moved to Saint Petersburg, Florida, from Ithaca, New York, for blue skies, warm temperatures, and beaches. Before the move, Sean had worked in the financial industry for 7 years. Video games were always a hobby of his, and he dreamt about making video games, but he never had the time to do it. Since he didn't have a new job lined up in Florida, he decided to take advantage of this transitional period to teach himself how to develop mobile games. He founded Napland Games in April 2013 and released his first mobile game, dFenz, that month. Then he went to work on Wordspionage.

Shannon had built a career in nonprofit fundraising in Ithaca, New York, over 7 years before the move to Saint Petersburg, Florida. After a few months off, she started a new job in April 2013, just when Sean released dFenz. The plan was for Shannon to work at a job to pay their bills while Sean worked on Wordspionage. In December 2013 after Wordspionage was released, Shannon quit her job to work on marketing Wordspionage full-time.

Now Sean and Shannon are living their dream of working together on their own business, of building a community for a game they feel passionate about. They made Wordspionage because they wanted to play it, and they hope many others will join them in going beyond the board, defying convention, and daring to pursue dreams.
Logo & Icon
download logo files as .zip (89KB)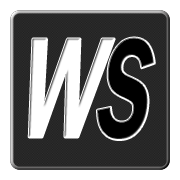 Team
Sean Mann
Lead Developer
Shannon Ahn
Marketing Manager
Contact
presskit() by Rami Ismail (Vlambeer) - also thanks to these fine folks